Remembering: Seamus Heaney reminds me of hope…can you see it? feel it? taste it?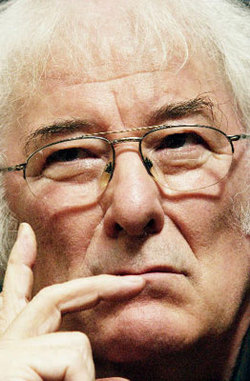 It was 1989, and time to come up with a name for my just-born son. In an move I've never regretted, we named him Seamus (Shay for short), and though we agreed we weren't naming him after anyone specific, it was cool that his name echoed this fellow from Ireland, who passed away late last month.

During that period 24 years ago, folks asked us, baldly, how can you bring a kid into this world? It's all so dark, so hopeless, so unforgiving, they said. I think this poem by Heaney answers the question far better than I did at that time. As I look at the tracks my sons both are leaving, as well as the ones they trace out as they make their paths, I believe in miracles, and the chance for hope & history to rhyme.
from "The Cure at Troy " by Seamus Heaney
Human beings suffer,
they torture one another,
they get hurt and get hard.
No poem or play or song
can fully right a wrong
inflicted or endured.
The innocent in gaols
beat on their bars together.
A hunger-striker's father
stands in the graveyard dumb.
The police widow in veils
faints at the funeral home.
History says, Don't hope
on this side of the grave.
But then, once in a lifetime
the longed for tidal wave
of justice can rise up,
and hope and history rhyme.
So hope for a great sea-change
on the far side of revenge.
Believe that a further shore
is reachable from here.
Believe in miracles
and cures and healing wells.
Call the miracle self-healing:
The utter self-revealing
double-take of feeling.
If there's fire on the mountain
Or lightning and storm
And a god speaks from the sky
That means someone is hearing
the outcry and the birth-cry
of new life at its term.
It means once in a lifetime
That justice can rise up
And hope and history rhyme.
– Seamus Heaney