Starpeople: The moon over Mount Baker in Washington State….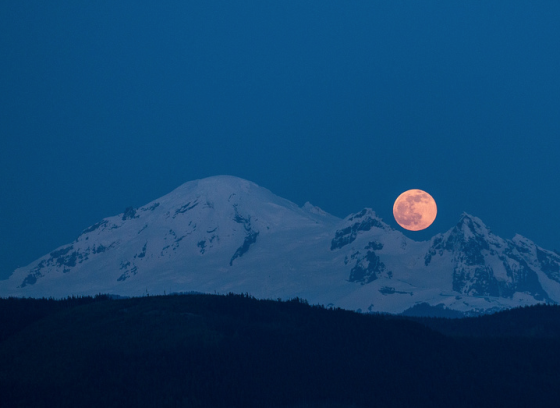 It's always great to see the world (and other worlds) from different angles, and that's what I love about Chris Teren's photos…he goes to amazing lengths to get amazing angles that make this amazing world even more clear & …well, amazing. Here are his remarks about this picture he shot last night:
Full Moon Cradled by Mount Baker – May 3, 2015
I've been trying to get this shot for several years. Last night, it finally happened. I left the San Juan Islands in my Piper Cherokee at 7:30 PM and headed towards Birch Bay, with the hopes of finding the moon rising at 8:13 PM. It was a beautiful evening and there was plenty to see along my way. Around 8:20, I still could not see the moon!
There was a lot of haze to the east, so I started climbing to get above it. Somewhere around 8:30, and 7,500 feet up, I finally caught sight of the moon – in the wrong place! It was over the Twins and moving fast, nowhere near Mount Baker – the haze to the east had obscured it! I started diving and flying east, towards Lynden, in order to catch the moon where I was hoping to see it.
By the time I got down to 3000 feet, I was over the town of Everson, and the moon was perfectly framed between Colfax Peak and Lincoln Peak, with Mount Baker right behind. It was a sight to behold!
You can view this image full size, by clicking on the image.
Prints and more images from the Pacific Northwest are available too.
http://terenphotography.com
© Christopher S. Teren 2015 – All Rights Reserved