First – the blue whales – they're back!!!!!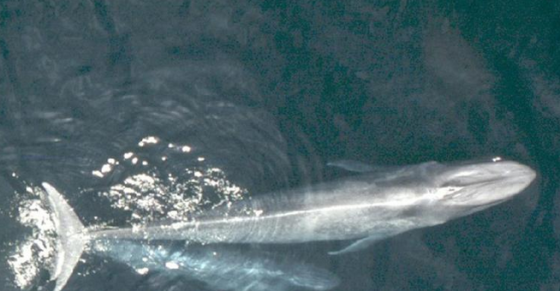 California blue whales, the largest animals on Earth once driven to near extinction by whaling, have made a remarkable comeback to near historic, 19th-century levels, according to a University of Washington study released on Friday.
The recovery makes California blue whales – which study authors say now number about 2,200, or 97 percent of historical levels – the only population of blue whales known to have recovered from whaling.
"The recovery of California blue whales from whaling demonstrates the ability of blue whale populations to rebuild under careful management and conservation measures," said Cole Monnahan, a University of Washington doctoral student and lead author of the study.
---
There's a new killer whale calf  in the Salish Sea….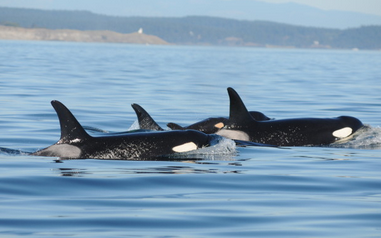 Looks like the welcome news is…the baby looks healthy! The numbers of the Southern Resident Killers Whales (SRKW) have dropped to around 78 (they were in the high nineties around twenty years ago), and have been assigned to the US Endangered Species list.
This past week, several whale watch operators (I think Jim Maya was the first) reported an apparent calf – see the peach-coloured spot in the picture? That's customary for newborns.
The new orca's mom is from L pod  – L86 – and has been given the number L120. It's L86's second calf, which is good, as the first calf often is the weakest of the kids any given killer whale mother produces. That wasn't the case with L86's first calf – hers died because of human activity.
L86's first calf (named Victoria or Sooke, L112) died two years ago from some sort of percussive force (here's the 2012 story in the Seattle Post Intelligencer, and the more detailed and better writeup by Monika Wieland, when it happened).
Grim stuff.
Here's more about the new calf with the Pacific Whale Watch Association, and the Center for Whale Research.
---
A couple of weeks ago: Killer whales bothered by humpbacks (that's backwards!)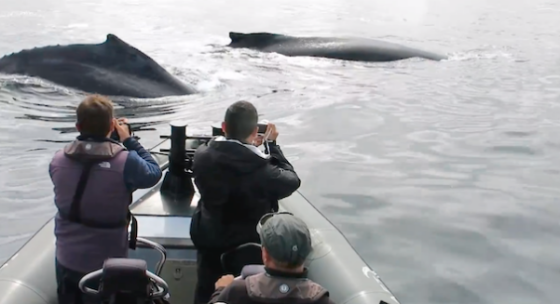 Here's video of an extremely rare happening – humpbacks apparently bugging orcas, down near Monterey off the California coast in the States. Click here to see the videos.